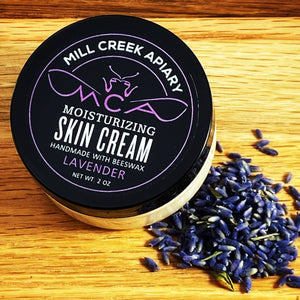 skin cream
liked the old Hand Cream better, was more waxy and protected better. Newer skin cream is lighter and doesn't stay on my hands as long.
Luxurious lotion
Such a great lavender smell and very thick. Very moisturizing!
Literally the best moisturizer ever!
This is our local wonder! I use it on my hands, for healing on dry skin (the only thing that works) and I give it as gifts and receive repeated requests for more from my friends and family. Also, great, responsive customer service! You rock!!!
Keeps skin soft while smelling good
I highly recommend this lotion. Firstly, the customer service is amazing. Secondly, the lotion keeps my skin soft. I have psoriasis, and it doesn't flare up using this product.
Hand Cream
I love Mill Creek Apiary Hand Cream. After washing my hands constantly during the pandemic, they became very dry. I use the cream at night and by the time I wake up, my hands are nice and soft. I ordered on-line for my whole family. So glad I did.