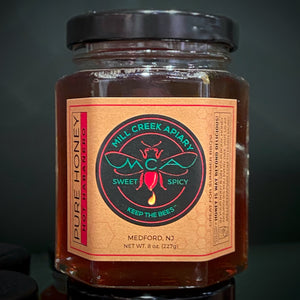 I use this honey on Salmon, carrots and sweet potatoes. Gives it the extra flavor.
Medfords hidden HONEY Treasure
First ,the new Store is smack in the middle of Downtown MEDFORD with parking right next door. The shop is most tidy and well laid out. I bought all variety of honey to give at Christmas.
Outstanding staff as well.
Habenero Honey
Great when taken alone. The after kick really tops it off. However, when used with butter, peanut butter, etc, it's not quite hot enough for my tastes.
Amazing Honey
I'm super impressed with this Habanero honey, actually all the honeys I've bought from this apiary. I bought more honeys as gifts for my siblings and they fell in love as well. I will keep an eye on the Habanero honey to come back in stock and stock up since it goes so quickly!
Great Customer Service
I had an issue with my order, so I sent an email. I got a very fast response offering to replace the jar I had an issue with. The honey is amazing and so is the customer service. I would absolutely order here again and I have been recommending this company to many friends!