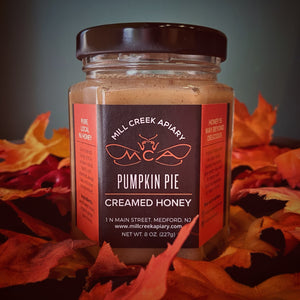 Great Products, backed by outstanding customer service!
Love the pumpkin pie creamed honey but I want to try their other offerings as well. I would highly recommend this local business!
Beyond Delicious
This was my first experience with 'creamed' honey. Here is what happened after I tried this when I brought it home. I ate the whole thing in two days straight out of the jar. I'm not even ashamed about it. This was so delicious I wouldn't even consider putting it on or in anything, it's amazing by itself straight out of the jar.
Loved!!
Pumpkin pie, cranberry and blueberry were amazing! Chocolate was 🔥 Tumeric was interesting! TAstes like spicy tea my wife makes me.
Incredible!
This new pumpkin pie creamed honey is amazing. It's a perfect dessert and also adds a morning kick to my coffee. We love everything MCA makes!